Hokays, i'm attempting to make myself blog more often so that i can look back into poly life in future. Should've done this earlier since i regard this few years of age as the fun-est part of my 19 years of age. The stage whereby I've became more talkative, more sociable and more proactive.
Anyway the point of my entry today is........TADAA~!!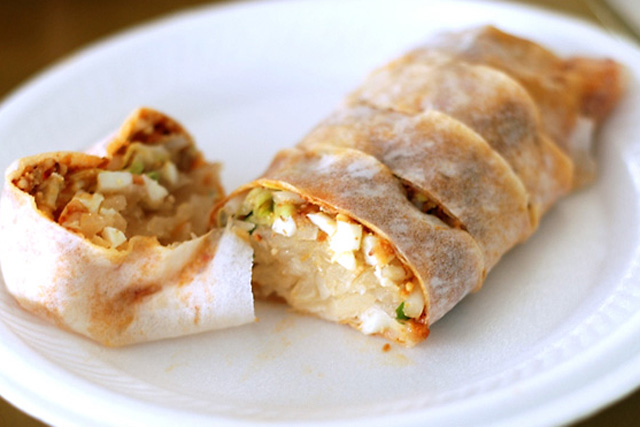 I'm pass the tau huay craze already.

This is my new love, POPIAH!!!

Been really craving for it like mad recently and there's sooooo little places selling it. :(

Love the skin, love the fillings, love everything!

♥

This local dish is too underestimated la~!

Someday i wanna go

Kway Guan Huat Original Joo Chiat Popiah

.

Heard they got the best popiah in Singapore and the skin that they use is handmade by them! :D

Luckily 900+ there got sell nice popiah. The stall close to the famous 928 Laksa at Yishun.

I immediately grinned upon having a bite. HAHA! The wonder of food can put a smile into me so easily! :P

-

Banner at the registration site.
Anyway i did something crazy recently.... Went to sign up for full marathon on impulse! Super reckless i know! X_X
hahahah! I totally skipped 21k which was what i intend to run this year under the influence of Michael who keep tempting me with 42k. Well.... at least i got something to strike off my bucket list this year PROVIDED i can manage the crawl through the whole run. A sooner or later thing to do anyway.
Gonna have a go at this with Michael, ZhiYong, JianHong and FanYing. All guys with half of them completing full marathon before! Intimidating ah~!!
I only got 5 months left to train. Die.
My pricest and craziest signup ever. $60 if the school never refund me $10. X_X
Check out the difference in pricing for the run subsidized under SP for this year and last year. Full marathon is x2 of last year's price! :(
I can still remember the thought that flow through my mind while i was running half beaten-ed for Shape run.
Why the fuck did you sign up for 42k??!?!?! WILL DIE!!!! 10k buay tahan already still 42k!
Serious mental strengthening needed this time round.
Heehee~ Full of smiles during last year's run with a handful of my fellow Green Transformers mates. Adhi's doing 21k while I'm still in the process of irritating Alicia to go for 42k too! :P
Kay, now to rush my FYP. le sigh! :(
Got FYP things to do also complain, No FYP things to do also complain.
I can't be satisfied la! haha!